GDN:NEWS ARTICLES
Roxio Game Capture Device [Video] Review (hardware/software)
Posted by Christophor Rick (TheSuperGuido), Apr 28, 2011 14:13
Roxio Game Capture Overall
Overall I quite like the unit and found it
extremely easy to use and packed with a lot of good features. I would really like to see a timed autosave for projects in a software update and perhaps some stability fixes because on my Windows 7 machine it crashed several times causing a fairly large and frustrating loss of work.
The only other caveat is that it can't capture full HD video presently but it does a good job of upscaling or at least outputting at a higher resolution as the video in this review is 1280x720.

But flaws aside it's a great, compact way to capture video from your consoles for whatever your reason. At $100 it's less than many video editing software packages are and it gives you almost everything you need to get started right away. The unit is so useful that GDN will start using several of these to supply video for upcoming console previews and reviews.
Technical Notes

I don't have a CUDA GPU or a Sandy Bridge processor in the testing rig here. However,Roxio Game Capture products are optimized for maximum video encoding performance through support for the latest NVIDIA CUDA, ATI Stream technologies. In addition, Roxio Game Capture leverages Intel Enhanced for Core and Sandy Bridge technologies to ensure the best game play capture, conversion, and sharing experience.

Minimum System Requirements:
Windows 7/Vista/XP, Intel Core 2 Duo Processor 1.8 GHz or AMD Athlon x2 64 2.0 GHz, 2GB RAM
DirectX 9.0c compatible graphics card or higher, sound card
2GB free hard drive space for installation. 10+ GB free recommended for video recording.
Windows Media Player 11 or higher
Internet explorer 7 or 8
Internet connection required for registration, product updates and tutorials. Any Internet changes are the user's responsibility
One available USB 2.0 port
Update: I just saw this in the Roxio newsletter, so if you need cables you can get them a bit cheaper.

Save $5 on HD component cables for Xbox or PS3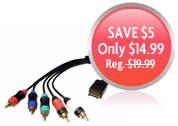 Take your games to the next level! Save $5 now on high-definition component cables for Xbox 360 or PS3. Also works with Roxio Game Capture to record your game sessions to your PC hard drive.
Rating: 4.4, votes: 23