Ratrod Studio Inc., with the collaboration of pro skateboarder Mike Vallely is proud to present this highly anticipated title Mike V: Do or Die. This skateboard video game is now available worldwide for the iPhone and iPod Touch. The game is rated 4+ (for everyone) and can be purchased now on the Apple App Store.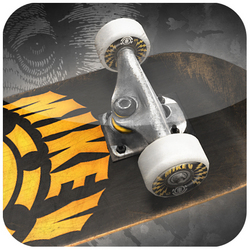 Mike V: Do or Die - Skateboarding
From skateboard legend to rock star and movie actor,
is known as a pioneer and innovator in the skateboarding world. Discovered by Stacy Peralta (Z-Boys) and Lance Mountain in the 80s, Mike became the first east coast street skater to emerge on the scene and became an overnight sensation. Mike is also the vocalist for the band, Revolution Mother, and is the host of his own TV show called DRIVE on FUEL TV. Recognized and idolized by skateboard enthusiasts around the world, Mike has long been featured in the Tony Hawk video game series published by Activision including their latest, RIDE.
Mike V: Do or Die focuses on Mike's path, passions and career. It will feature an overview of his evolution as an individual and his lifelong accomplishments in the history of skateboarding. Players start from the legendary 'Bones Brigade' Powell-Peralta era and can improve their skills while gaining experience to unlock exclusive game content including a selection of over one hundred items to choose from. They can customize their character, board, wheels and car.
The game features stunning next generation 3D graphics using the multi-touch capabilities of the iPhone or iPod Touch to simulate an authentic skateboarding experience by using a cutting edge control system to execute over 40 unique tricks ranging from different styles. The players are even able to select their stance and adjust their trucks to fit their riding style.