Paizo has been working hard on their new Pathfinder Battles: Heroes & Monsters base set and doing a lot of sculpting on the figures. They've showed some off now in the blog and have some physical sculptures of the Ettin and Human Ranger. Check out the images below.
Below you can see the green (a sculpture of modeling clay which used to be green epoxy putty) of the tallest miniature in the Heroes & Monsters set, the two-headed Ettin. The pose is an amalgamation of a black-and-white ettin image from a Pathfinder's Journal fiction piece and the ettin entry in the Pathfinder RPG Bestiary.
Once a sculpt has been approved, WizKids technicians use the green (that's the modeling clay sculpture above) to form the basis of the mold from which the entire production run will come. At about the same time this is being done, painters must determine what the final paint job of the miniature will look like. In the case of digital sculpts, general paint guides come with the sculpt itself. In the case of traditional sculpts, however, the artists must interpret colors from the original art, and take their best shot at how they think the final colors should look.
Just this week, WizKids sent over the proposed paint deco specs for the Ettin, which looked like this:
So the Ettin went very smoothly, transitioning from art to green to mold to paint deco with virtually no hitches.
Here is a look at the Human Ranger for the set.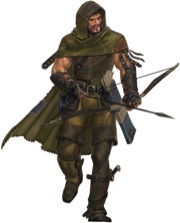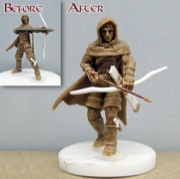 With bow at the ready and arrow nocked this Ranger was ready for some combat and here's what the painted version looks like.
Pathfinder RPG combat comes to life on your tabletop with Heroes & Monsters, the debut release in the new Pathfinder Battles prepainted miniatures line! Produced in cooperation with Paizo Publishing, Heroes & Monsters presents a fascinating array of 40 beautifully painted miniatures perfect for use with the Pathfinder RPG or any fantasy miniatures game! From the brave Gnome Fighter to the mighty evil lich, Heroes & Monsters offers a wide range of player characters and dungeon denizens that make a perfect start to your Pathfinder Battles collection!
Heroes & Monsters Standard Boosters contain 1 Medium or 2 Small miniatures.

Heroes & Monsters Large Boosters contain 1 Large miniature.

Heroes & Monsters Bricks contain 16 Standard Boosters and 3 Large Boosters.

Heroes & Monsters Cases contain 4 Bricks (64 Standard Boosters and 12 Large Boosters).
Purchasers should get no to very few duplicate figures in a brick. Buyers who purchase factory-sealed cases should get a nearly complete set of figures. (As with any randomized product, collation is not guaranteed.)
Here's a look at some of the other figures:
(click to enlarge)