Inferno, the 17th free expansion to EVE Online, sounds the clarion call to war. Inferno invites
new players with a lower barrier to entry, empowers veterans with more control over their wars, and entices combatants of all types with advanced new weaponry. Inferno then wraps it all in upgraded graphics, creating a visually stunning experience unlike any other online game. Enter the fray… and set the universe on fire
Briefly, major additions in v1.1 include:
Upgrading the entire Minmatar fleet to new shader model standards (as well as the ubiquitous Caldari Drake)--almost 1/4 of the ships of EVE Online redone
Continued work on the War Declaration, Incursions, Unified Inventory and Factional Warfare systems
Improved camera functionality, more character personalization/clothing and Aurum purchas options
Loyalty has its rewards, and the four militias have expanded the offerings of their Loyalty Point stores to include new male and female uniforms for their respective factions. Enlisted pilots will now be able to show off their affiliation and loyalty through exclusive Factional Warfare attire.
New Eden tailors have also been commissioned to create several additional full uniforms – shirt, pants, and boots - which will be available for purchase through the NeX store.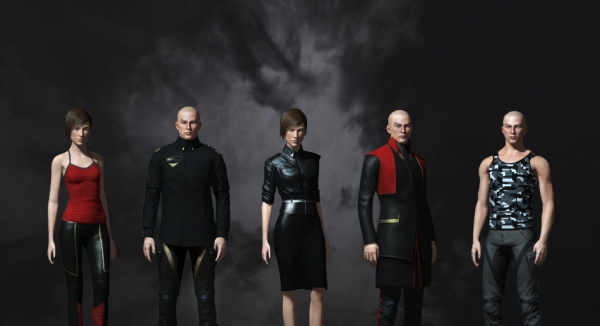 Feature monitoring and community input have led to a range of updates and fixes to several major components of Inferno, including War Declaration, Unified Inventory, and Incursions. Additions have also been added to the existing Aurum system, allowing for direct purchase of the currency through Account Management. Senior Producer, Jon Lander expands on the details of these changes in his recent development video.